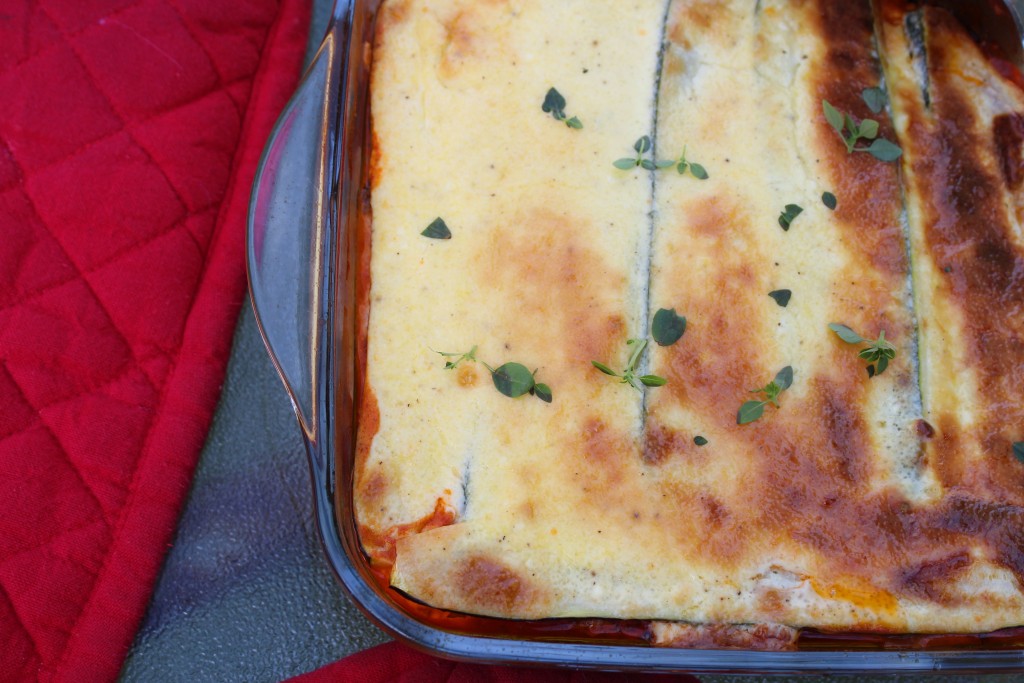 When I was contacted by Expedia and challenged to create a Greek dish as part of their World on a Plate Challenge I jumped at the chance!! Greece is one of my favourite holiday destinations and Mr M and I have explored several islands together (BK – Before Kids – in the days of carefree holidays!). I even spent a week exploring the mainland including Olympia on my way to Egypt (don't you just love a free stop-over?!).
And what do I love the most about the place? Well, the food…and the sunshine…and the clear warm waters…and the lovely people…I could go on!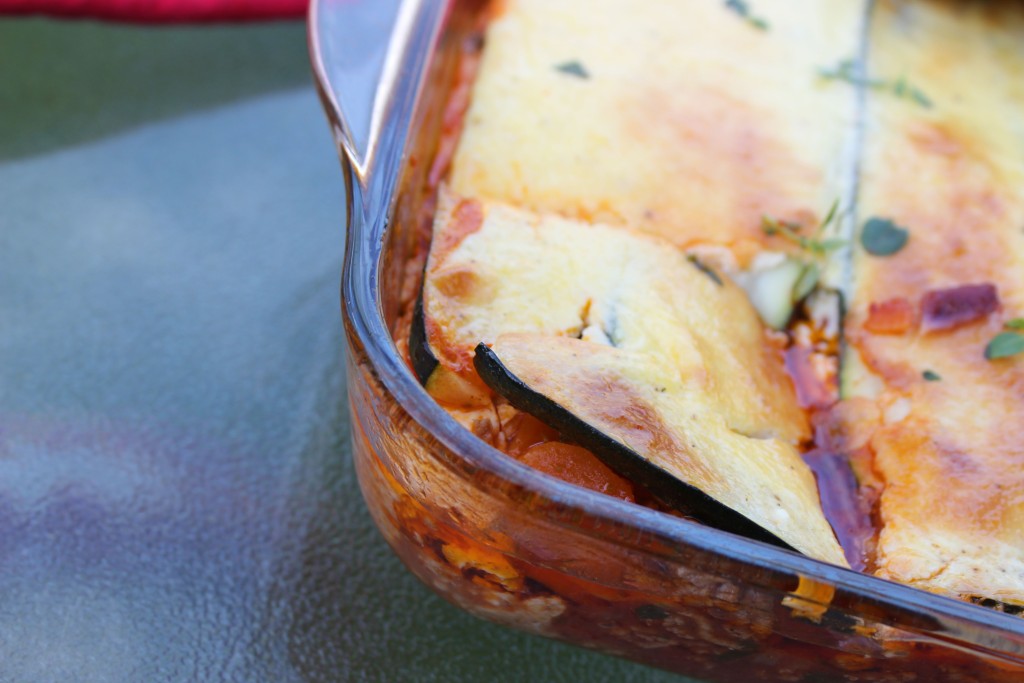 Anyway, given my current restricted GAPS/SCD diet I decided that creating a moussaka that we could all eat would be rather wonderful. I love moussaka and could eat it every day but most recipes are rather time consuming. Not mine!
Now, I'm not sure if you have made moussaka before, but if you have you will know about the 'faff' with preparing the aubergines. Well, on this warm afternoon I have good news for you! I use courgettes rather than aubergines in my recipe (yes…it probably can't be called a moussaka then but I don't care…I like being a culinary rebel!) which means no faffing!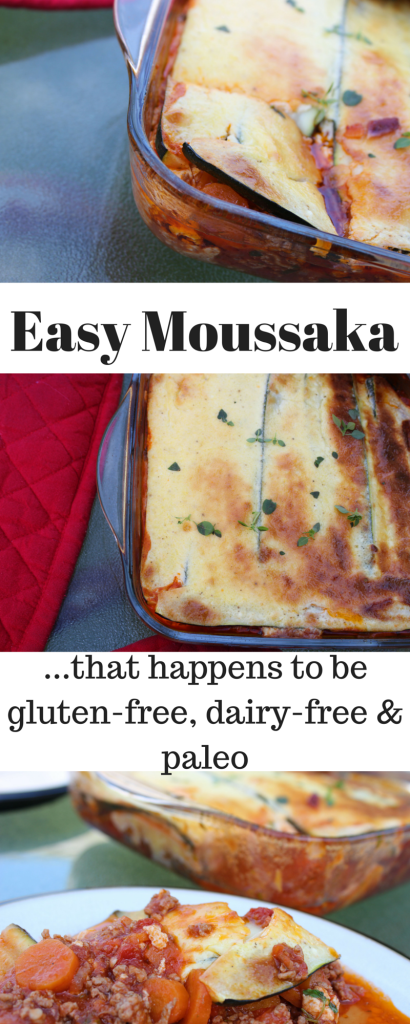 There are a few options for the topping here. The first uses my 24 hour fermented cream (you could use 24 hour fermented yoghurt and replace the cream with milk if you wanted a lower fat version) so that anyone on the SCD or GAPS diets can eat it! The second uses a dairy-free white sauce for those of you who need it to be dairy-free. If you don't need dairy-free then I would suggest making the white sauce with cow's milk and adding some parmesan, or opting for the super-quick Greek yoghurt version! And if you like a really thick topping then double my topping quantities…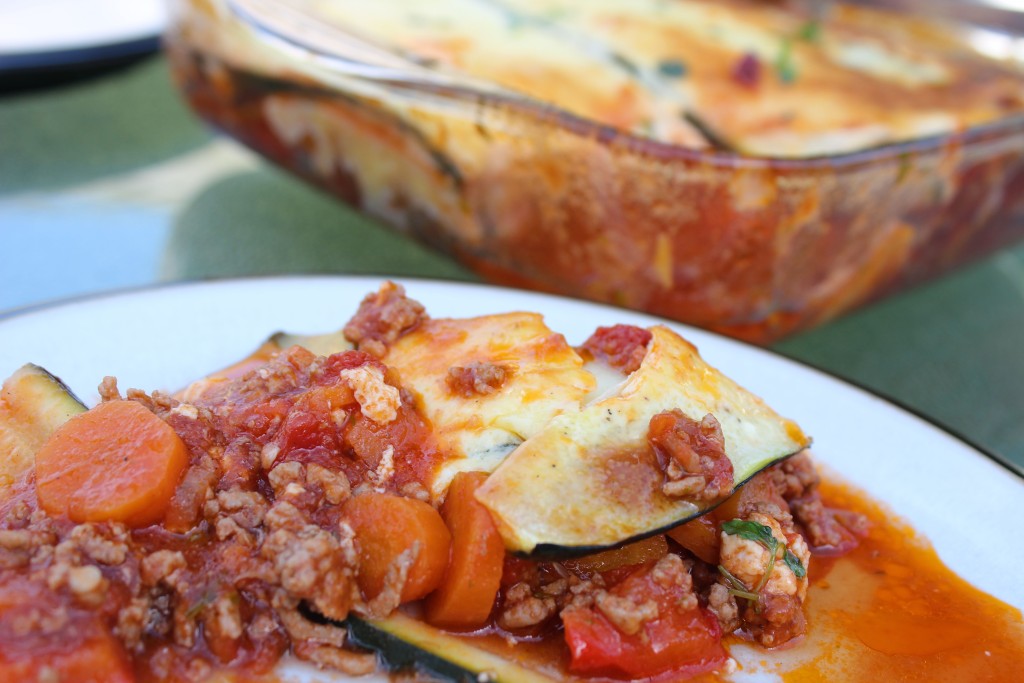 Easy Gluten-free, Dairy-free, Paleo Moussaka
Gluten-free, Dairy-free, Nut-free, Soya-free, Paleo, GAPS, SCD
Ingredients
FOR THE SAUCE

1

large carrot

peeled and chopped

1

red pepper

chopped into small pieces

1

red onion

finely chopped

1

stick celery

finely chopped

2

cloves

garlic

finely chopped and crushed

400g

grass-fed organic lamb mince

1

tin

chopped tomatoes

5

anchovie filliets

roughly chopped

2

courgettes

sliced thinly length-wise

1

tsp

ground cinnamon

2

tbsp

tomato puree

Handful fresh mint leaves

chopped

Handful fresh basil leaves

chopped

Pinch

sea or rock salt and pepper

FOR THE TOPPING:

either:

250

g

24 hour fermented yoghurt/cream or Greek yoghurt

1

medium free-range egg

Grate of nutmeg

optional

Handful grated parmesan

optional if not dairy-free

or

400

ml

dairy-free milk

2

tbsp

cornflour

1

medium free-range egg

Grate of nutmeg

optional

Handful dairy-free cheese

optional
Method
Place the carrot, pepper, onion and celery into a large pan along with enough water to cover. Place the lid on the pan and simmer for approx. 15 minutes or until the vegetables have softened. You may need to top up the water to prevent the vegetables from sticking or burning

Once softened, add the garlic and mince to the pan and turn up the heat. Stir continually, breaking up the mince until the mince has browned

Add the tomatoes, anchovie fillets, cinnamon, tomato puree, herbs and seasoning and simmer for a further 15-20 minutes</span>

Meanwhile, cut the courgettes into thin slices lengthwise and set aside

To make your topping combine your yoghurt with your egg and added optional extras

If making the dairy-free topping place the cornflour in a glass jug and add approx. 50ml milk. Mix to ensure there are no lumps then add 150ml more milk.

Microwave on full power for 1 1/2 minutes, then mix well. Place back in the microwave for a further minute and mix well again.

Slowly pour in the remaining milk mixing well as you do and put back in the microwave for 1 1/2 to 2 minutes more, until the sauce is bubbling and thick

Set aside to cool slightly before adding the remaining ingredients

To assemble the moussaka place half the meat mixture on the bottom of a dish measuring approx. 20cm x 20cm and spread evenly.

Top with slices of raw courgette, then repeat, finishing with slices of raw courgette

Finally pour over your topping mixture and bake in a pre-heated oven at 200 degrees (180 fan, gas mark 6) for 25 - 30 minutes or until golden on top and firm to touch
This is a commissioned post for Expedia
I shared this with: