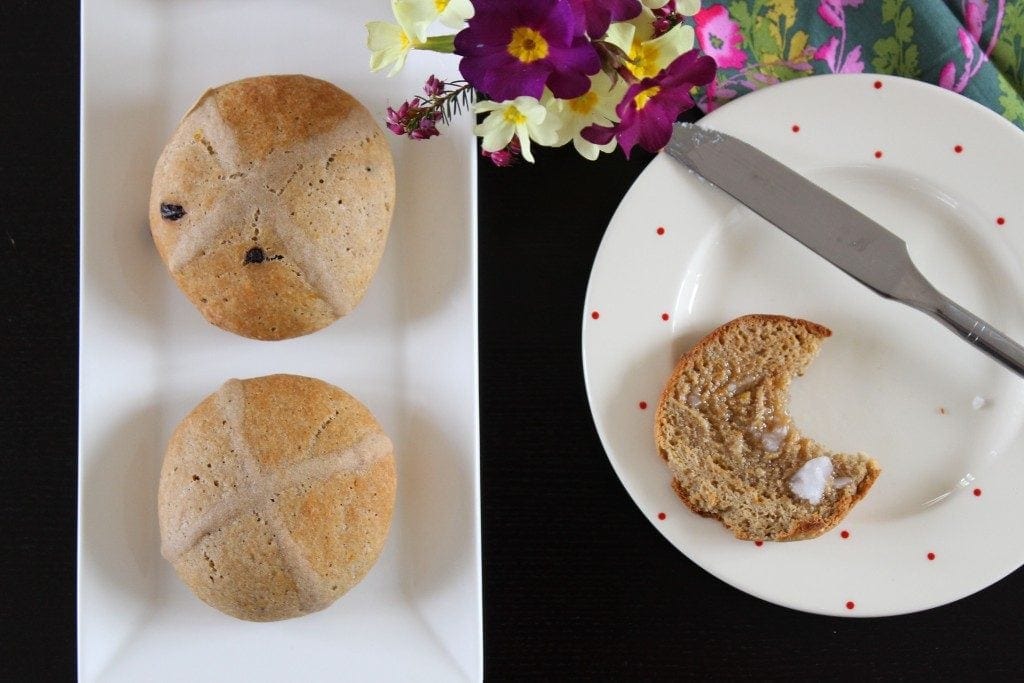 Let me introduce my gluten free hot cross bun recipe but before that, a story…
As I washed and polished Rosie, my T25 VW van at the weekend, it occurred to me that it has actually happened…I have hit middle age where it is perfectly acceptable to polish a car on a Sunday afternoon.
If my 30 year-old-self could see me now, she would be laughing herself to tears.
In my defence, Rosie is the first vehicle that I have loved enough to even wash, let alone polish (and name!); and I was escaping from the house of illness and endless rounds of DVD's.
How is it that kids can watch films over and over again without getting bored?
Anyway, since I am approaching the big 4-0 it is no surprise that I find myself doing middle aged things. I don't plan on doing it often though…it was jolly hard work for a start!
Anyway, whilst I was polishing said van, I was also doing my usual thing of letting my mind wander to what I would be creating in the kitchen.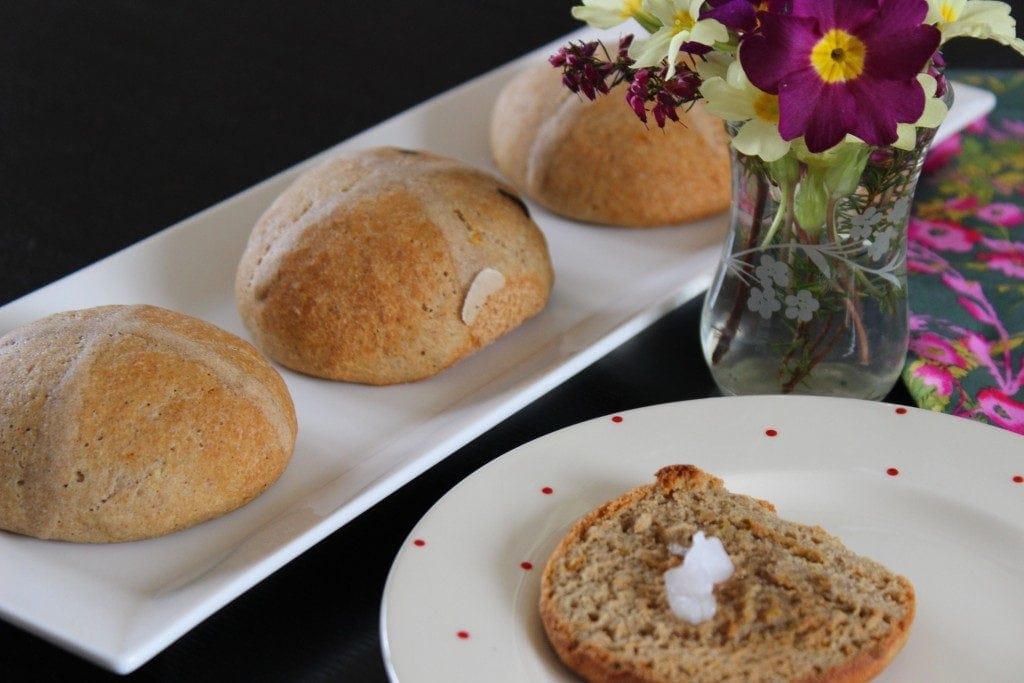 Recently my brain has been rather pre-occupied with child illnesses and new logo designs so not much thought has been given to my next kitchen experiments.
You'll be glad to hear that the kids went back to school this morning (not quite fit and healthy, but fitter and healthier then they have been for three weeks or so) and a little space in my brain opened up allowing a little thought about Easter…and the all important hot cross buns!
Last year I made a variation of Gluten Free SCD and Veggie's grain-free, yeast-free refined sugar-free hot cross buns. My version contained a little gluten-free flour and they were delicious. I wouldn't hesitate to make them again, but I fancied something a little softer and spongier this year. And since I can eat yeast now (thanks to the wonderful probiotic, Symprove) I decided on a more traditional yeast variety.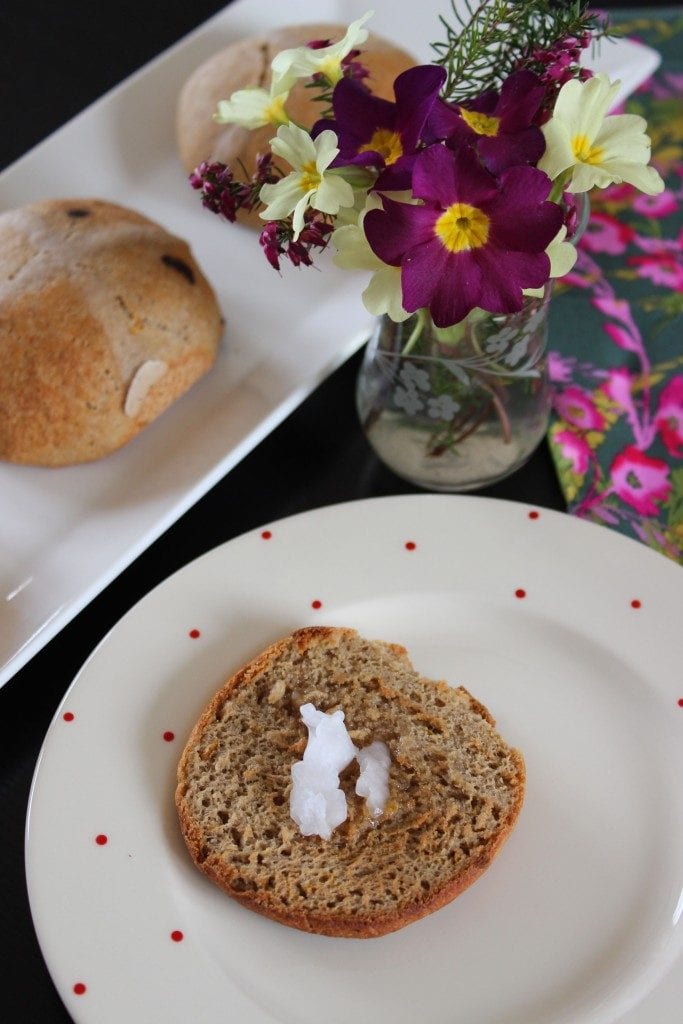 Given that I have now given up fructose (thanks to Sarah Wilson's I Quit Sugar Programme), and have no desire to go back to eating it as my tummy is happier than it has been for a year, I made this version of hot cross bun without sugar-laden dried fruit.
If you fancy a little sweetness in them I suggest adding some chopped up bits of dark chocolate (over 80%). I added that to half the batch so that the kids could enjoy a little chocolatey treat mingled with the spicy hot cross bun. I don't know what they are like, but I can tell you that the plain hot cross bun toasted with a large dollop of coconut oil really hits the spot.
As always do let me know if you make them. I love to hear your feedback…good or bad. It helps me to develop my recipes.
Hot Cross Buns
Gluten-free, Dairy-free, Nut-free, Soya-free, Refined Sugar-free, Fructose-free, low FODMAP
Ingredients
450

g

plain gluten-free flour

Or 250g of my own blend plus 200g plain GF flour

2

tsp

psyllium powder

7

g

fast acting yeast

check gluten-free

1

tsp

rock or sea salt

1½

tsp

mixed spice

1

medium free range egg

40

g

rice syrup

260

ml

dairy-free milk

I use unsweetened almond, plus extra for brushing

30

g

coconut oil

melted

Zest 1 orange

optional 40g dark chocolate chunks, minimum 80% cacao

2

tbsp

flour plus 2tbsp water for the crosses
Method
Mix together the dry ingredients in a large bowl

Place the milk and syrup into a glass measuring jug and heat in a microwave on high power for 30 seconds until just warm. Stir well

Add the milk and syrup mixture to the dry ingredients along with the egg, melted coconut oil and zest of the orange

Stir well until it comes together into a dough, then, using your hands knead until smooth

If using the chocolate chunks, add them to the dough now and knead evenly through the mixture

Divide the dough into 8 pieces and roll into balls

Place each bun onto a lined baking tray, leaving some space between them to allow them to rise

Boil the kettle and pour boiling water into another baking tray to approx. 1cm deep

Place the tray with the boiling water into the bottom of your oven, then place your buns on the shelf above. Close the oven door and leave for 1 hour

Once the hour is up, remove the buns from the oven and turn it on to 200 degrees/180 degree fan/gas mark 5

Brush the buns with milk then mix 2tbsp flour with 2 tbsp water to create a paste

Either pipe the flour paste into a cross shape on the buns, or drizzle it over in a cross pattern

Once the oven has got to the correct temperature place the buns in the oven (the tray with water in will still be in the bottom of the oven...leave it there) and bake for 20 minutes
Don't loose the recipe! Pin it now…